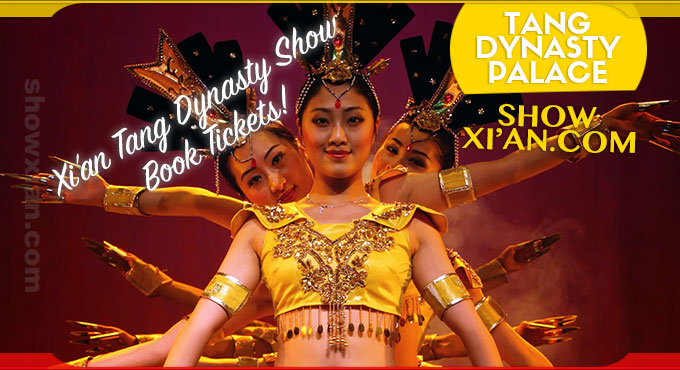 Xi'an Tang Dynasty Show
Considered a must thing to do in the ancient capital — the 1988 built
Tang Dynasty Palace
provides an unforgettable experience of the most exquisite Xi'an entertainment. The show is shrouded in magical storytelling, beautiful choreography, dance & acting, accompanied with a live traditional orchestra and Tang Dynasty-style fusion cuisine prepared by master chefs.
The night starts with an emperor style royal banquet at the impressive theatre hall or a beautifully crafted dumpling dinner at the Palace Restaurant. Induldge your senses to the maximum with the
Tang Dynasty Show
after dinner!
Xi'an Tang Dynasty Show at Tang Dynasty Palace
• Dinner Starts: 18:00 • Address: No.75, North Chang'an Road, Xi'an
• Show Starts: 19:30 • Metro: Nanshaomen Station (Line 2, Exit D)
Show Only: $43USD
Enjoy the show only. Snacks and drinks available for purchase, served to the table.
Dumpling Banquet: $65USD
Handpicked selection of popular folk dishes and 10 variations of dumplings.
Royal Banquet: $80USD
Sumptuous array of Tang Dynasty dishes along with a wide selection hearty Shanxi cuisine, served at the grand theatre hall.
Emperor's Banquet: n/a
Experience the meal of a Tang Dynasty emperor for one unforgettable night.
Luxury Royal Banquet: $200USD
Treat yourself with the most exquisite delicacies Xi'an has to offer.
Price displayed per person in US Dollars (USD).
---
Booking Form
Instructions
• Booking Step 1
Fill in the booking form with hotel details/contact method in China.


• Booking Step 2
Purchase your tickets via secure PayPal payment. All major credit and debit cards accepted without a PayPal account.

Money back guarantee: Cancel 24h before the show starts, and we will refund your payment.


• Booking Step 3
We will send the final confirmation e-mail. Show your booking to our staff at the theatre entrance to collect your tickets.

If you are late or cannot come, please contact us as soon as possible.
---
Note: Gmail is blocked in China, please give us an alternative e-mail in case!