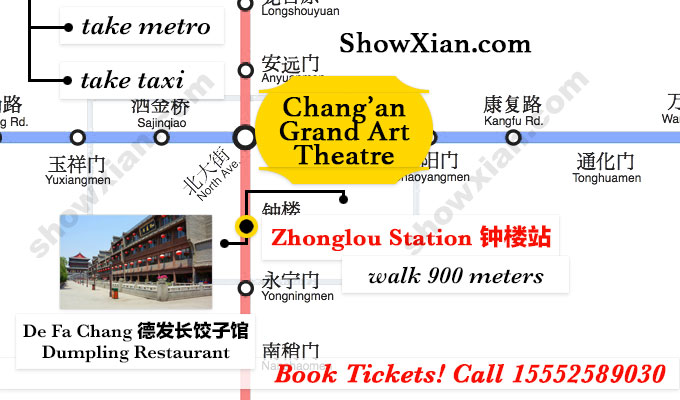 Show the below message to Taxi driver!
请送我到大长安艺术剧院, (新城区西新街2号), 电话:15552589030, 谢谢!
Theatre name: Chang'an Grand Art Theatre
Chinese name: 大长安艺术剧院
Address: 2 Xi Xin Street, Xincheng District, Xi'an
Address in Chinese: 西安市新城区西新街2号
Subway: Zhonglou Station, Exit D (钟楼站)
Show: Tang Opera Thirteen Dynasties (Chinese: 唐剧十三朝)
De Fa Chang Dumpling Restaurant
Enjoy dumpling dinner banquet before the show in the most famous dumpling restaurant in Xian, known as "De Fa Chang". Right next to the Zhonglou Station on Xian Subway line 2. Transportation from the restaurant to the theatre is also arranged for you.
Show the restaurant name to ask directions!
德发长饺子馆
Restaurant name: De Fa Chang Dumpling Restaurant
Chinese name: 德发长饺子馆
Subway: Zhonglou Station, Exit B (钟楼站)
Address in Chinese: 碑林区钟鼓楼广场西大街3号